official IDO-Events
2011
Nov 29 - Dec 3

Make sure you are familiar with the IDO dance rules
»
show rules
IDO World Tap dance Championships 2011
Deadline: Nov 3, 2011
Country: Germany
City: Riesa
Street:
Hall: erdgas arena

Organizer
Name: FVG-Riesa mbH & Michael Wendt in co-operation with ADTV-Tanzschule Riesa
Phone: +49-175-4350888
Fax: +49-40-826185
GSM: +49-175-4350888
E-Mail: wendt@ewendts.de
Web Site: http://www.tapdance-worldchampionships.com
IDO Bank account: show information

Downloads: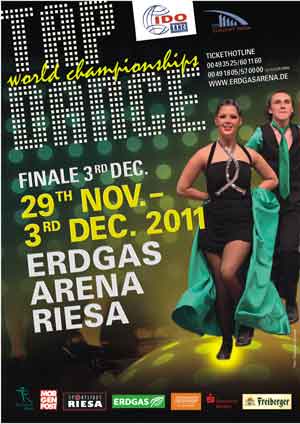 Chairperson of judges: Fowler Bill (United States),
Supervisors: Svehlova Hana (Slovak Republic),
Scruteneers: Wendt Christa (Germany),
All participating IDO-federations may send additionally "IDO-voluntary judges". In this case please contact the Chairperson of Judges and the Organizer at least 2 months before the event.
Due to organizational structures the categories "tap dance - small groups with live music" and Mini Productions will not be organized in Riesa 2011.
World Championship
World Cup
| | | | | | |
| --- | --- | --- | --- | --- | --- |
| Discipline | Class | Category | Age group | EpN | |
| - | - | Productions | All agegroups | 3 | registrations |
EpN = Entries per Nation