Nov 14, 2014
Happy Birthday - Slovenian Dance Sport Federation!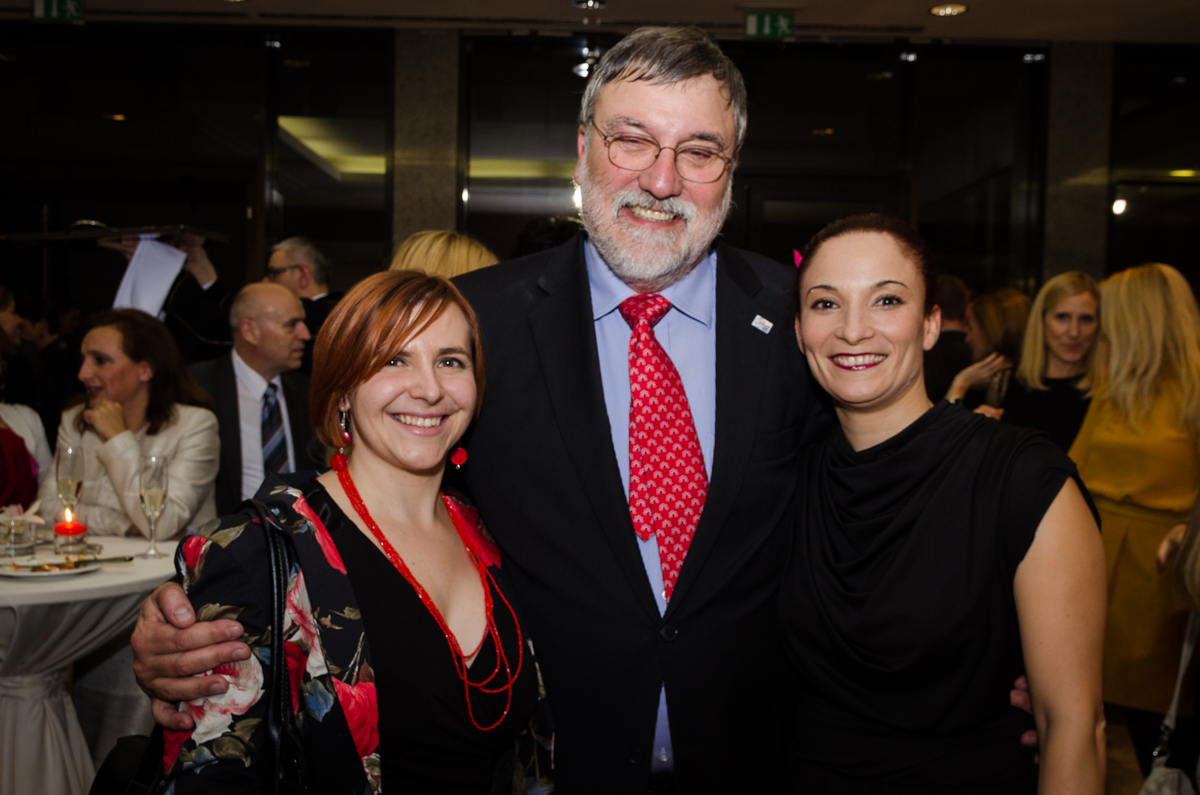 Vesna Vucanjk (Secretary of IDO-Slovenia) and Fiona Johnson-Kocjancic (President of IDO-Slovenia) with the IDO president Michael Wendt inbetween
Happy birthday from IDO to one of IDO's most successful and longest-time national members!
Dear Mr. Borut Prahor, Honourable President of the Republic of Slovenia!
Dear Dr. Janes Kocjancic, President of the NOC Slovenia!
Dear Drago Sulek – President of Plesna sveza Slovenij - PZS!
Dear Fiona Johnson-Kocjancic - President of IDO-SI – and my wonderful successor in IDO!
Dear WRRC President Miriam Kerpan Izak!
Dear WDSF-President Carlos Freitag!
Dear colleagues and friends of Plesna zveza Slovenij!

Let me tell you a short story: in 1979 or 1980 the famous US-American choreographer wonderful Judy Ann Bassing from NYC, USA left the aircraft to teach the first dance generation of former Yugoslavia - young, eager and very skilled dancers to get the US-styles "just from the horses' mouth" - ....I am sure in her US-Baseball cap...!
Among them Zuzsana Barta, Moica Horvat, Miha Lampic, Mimi Marcac Mirceta, Prof. Dr. Meta Zagorc, Jadran Zivkovic

These excellent dancers / teachers / choreographers formed the first crew to bring and develop Jazz dance and Modern, later on Show- and Tapdance dancesport – much later HipHop, Disco and all the other wonderful IDO dances into the new independent Republic of Slovenia-independence since 1991.

Late Tomaz Ambroz – whom I have known since the early 1980s from Rock'n Roll and thrugh the German Dance Teacher Congress INTAKO representing Yugoslavia) - was the first contact between Yugoslavia/Slovenia and IDO – something like contact person today.
Off course the Slovene dance organization (PZS) existed before – we are celebrating the 60th anniversary – so Jadran Zivkovic was elected to be first president of the IDO section inside PZS in 1989 for the next 19 years and then Fiona Johnson Kocjancic became his successor 6 years ago.....

Numerous times the media and dance experts outside Europe have questioned me: "Why are the Sloven dancers so strong? Why are they so successful?"
The answer is rather easy for me having withnessed this development since 20 years: Due to the "rather" small city and country with a very open young and eager to learn population and so many excellent teachers, and dance experts truly successful studios have been founded who competed with each other for ever rising levels – in short words: all dancers in Slovenia became better and better every year by dense competition and many times dominated the IDO dance scene.

But dancers are nothing without their teachers, choregraphers, federations!
In all these years PZS has sent wonderful choreographers to the IDO dance worlds – among many of them let me highlight "IDO rewarded" choreographers:
Moica Horvat - OUTSTANDING CHOREOGRAPHER OF THE YEAR 2002
Zeljko Bozic - OUTSTANDING YOUNG STREET DANCE DISCIPLINES CHOREOGRAPHER OF THE YEAR 2004
Miha Krušic - CHOREOGRAPHER of Champions in both Show Dance and Hip Hop 2007
Mitja Popowski - OUTSTANDING CHOEOGRAPHER OF THE YEAR 2008
The Slovenian National Showdance Team has been awarded as Outstanding Team of the year 2007
These VIPs have been awarded by IDO and are published in the IDO website in the HALL OF FAME! But there are much more outstanding dance experts in Slovenia, whom - unfortunately - we cannot all mention here.
Today numerous excellent experts from PZS are working for Dance in the world, in Southern and Northern Europe, UK, Scandinavia, USA, Southafrica, on cruise ships, in musicals, in shows etc etc.

On behalf of our wonderful and big IDO-family let me congratulate you all very much for the great work done! Especially because this year in Prague Plesna sveza Slovenia has set the new record:
• the most gold medals at a World Championship as Slovenian national dance team
– what a birthday gift for Plesna Slovenia!

And let me wish you the best of luck, success and – enjoyment/fun in dance - for many more wonderful years of dance in Slovenia and in the whole world for the Slovenian dancers and all other dancers in our wonderful world of IDO!

Michael Wendt
IDO president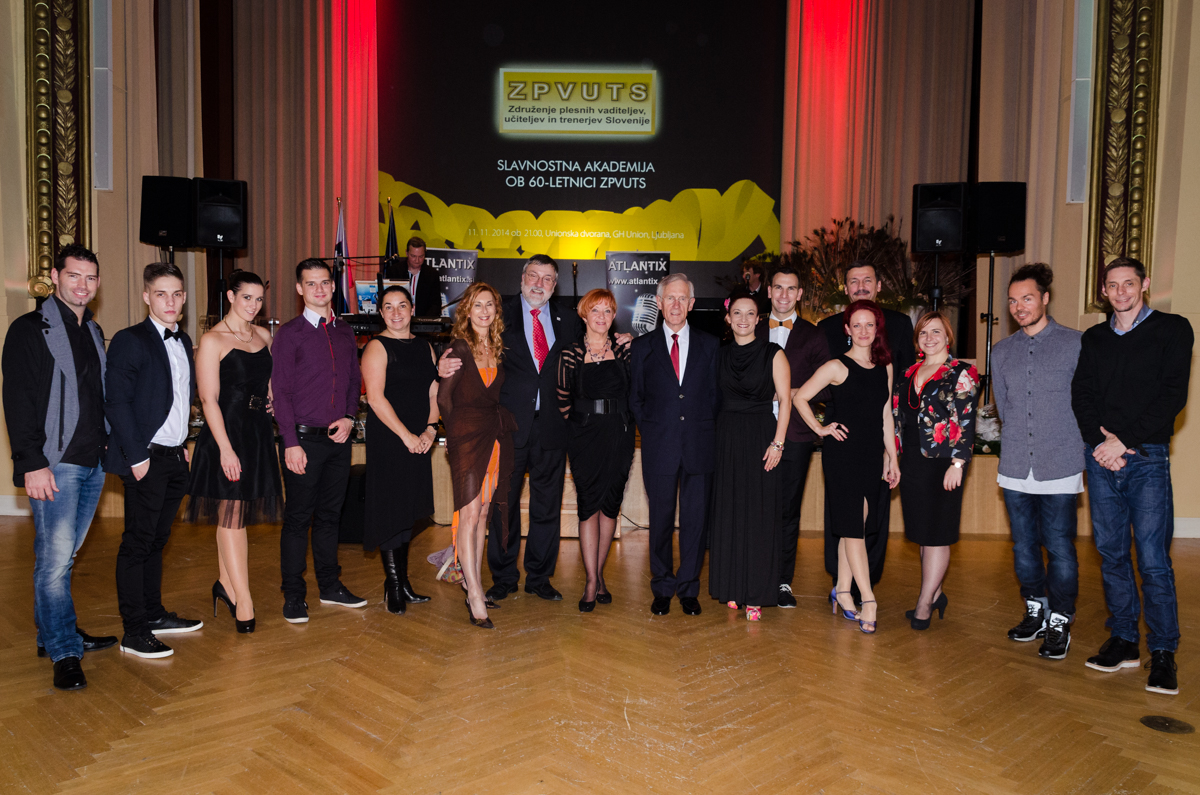 Great and dear IDO-friends present at the event - an unforgettable moment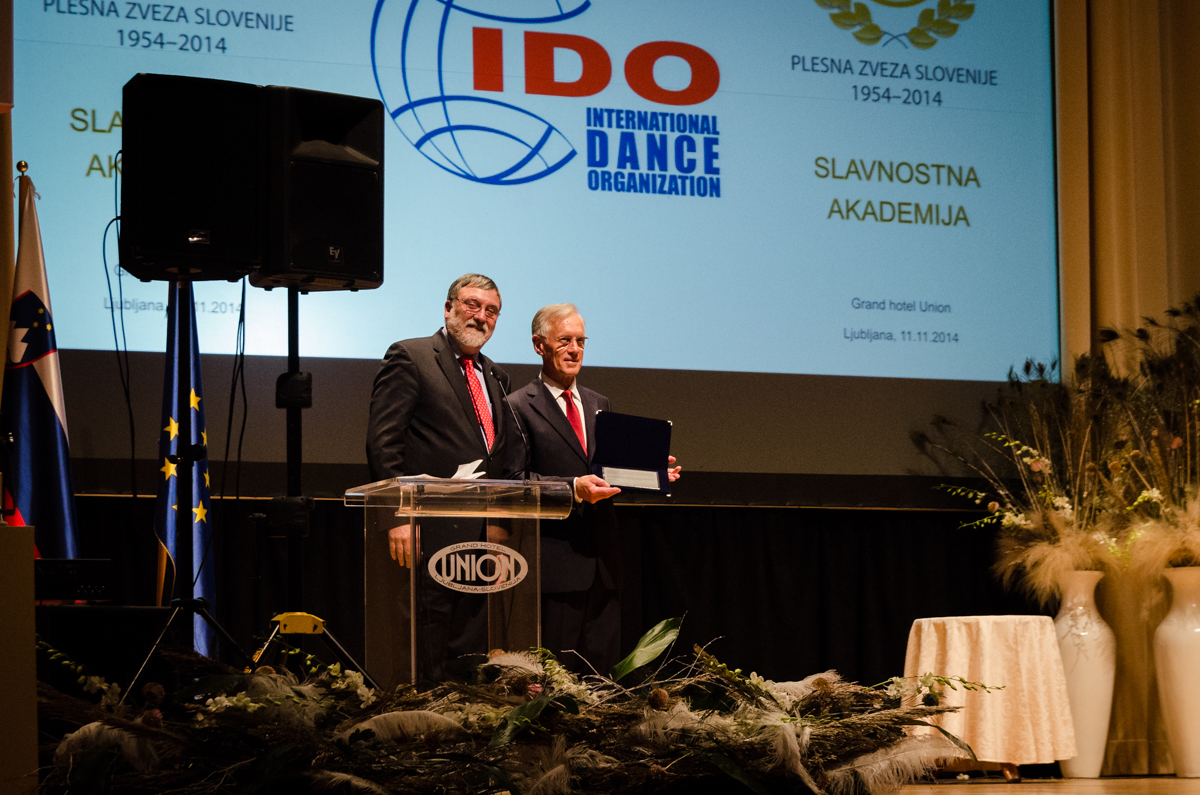 IDO president Michael Wendt gives the Award of Honor to Drago Sulek, President of the Slovenian DanceSport Federation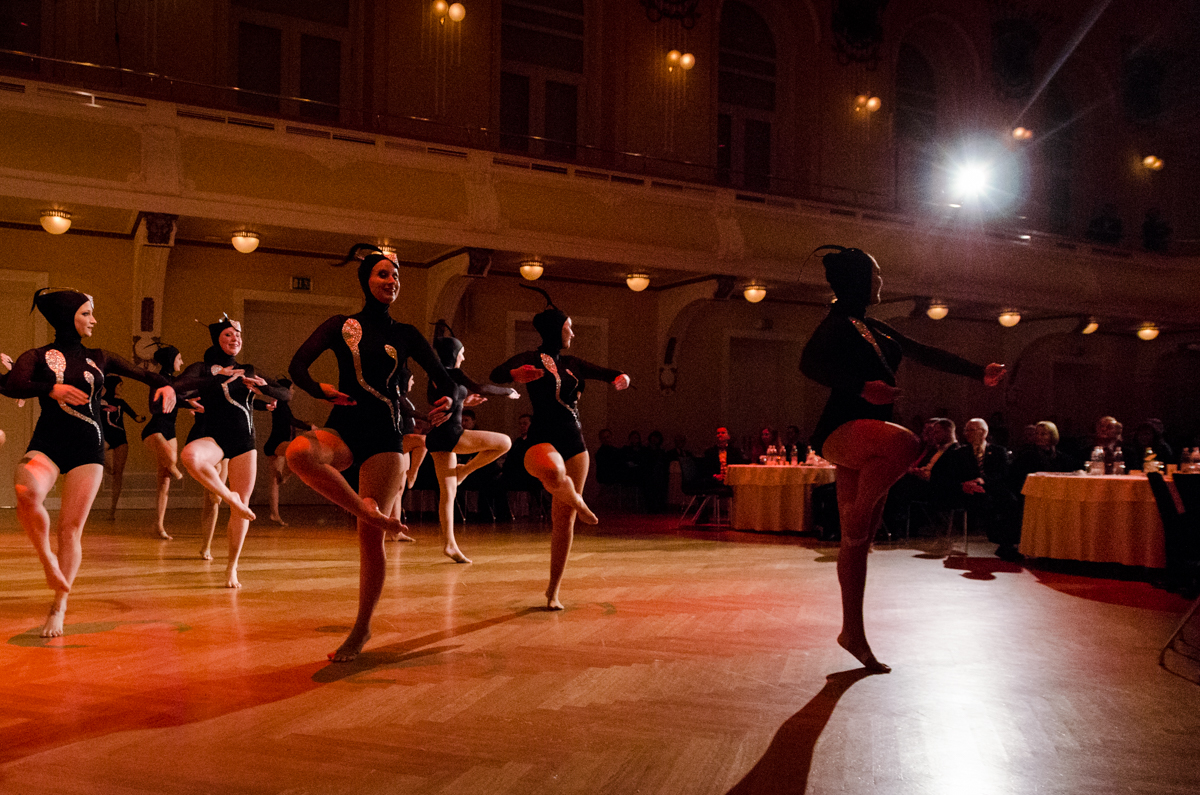 Great shows of highest dance levels enjoyed the guests from Slovenia, Italy and Germany.