Mar 11, 2008A super dance festival in Italy
26th Trofeo Internazionale di Danza
-
Regione Friuli Venezia Giulia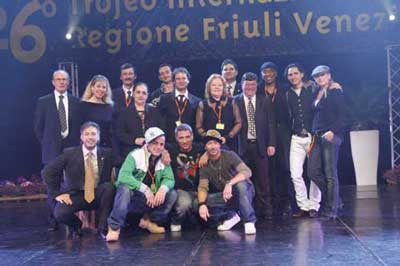 The panel of judges
Right in the middle of the winter doldrums, when we are all overworked and over-pressured with preparing for the new competition and concert seasons, I had the good fortune of being asked to judge the 26th Trofeo Internazionale di Danza, just outside Venice, in the beautiful ocean-side resort city of
Lignano, Italy
. Although this was not an IDO event, I feel that I would like to report on this very exciting event, so others in the Dance world will be aware of its existence.
Igor Del Mestre
and a very hard working cooperative team organized the event. The panel of judges included twenty-two International judges from as far away as Cuba, USA, Argentina, Bulgaria, Germany, Bosnia Herzegovina, Serbia, France, Greece and Italy. IDO judges included
Jadran Zivkovic
as Chairman of Judges,
Velibor Srdic, Gordana Orescanin, Bellabina, Rolann Owens
and
I.
The judges were treated to a lovely ocean view hotel, the Columbus, and although the first day saw violent rain and winds, the following two days were delightful, with the advent of spring weather and the blossoming cherry and apple trees, along with colorful pansies and primrose. The judges were also treated to delicious three course meals for lunch and dinner, at a lovely little Italian Restaurant across the street from the Sports Arena. In addition, soft beverages, pizza, panini and toastoni, candy and snacks were available at the snack bar in the arena.
There were over 3,800 dancers competing in all IDO Performing Arts Disciplines, including Ballet, Tap, Jazz, Acrobatic, Show, Folk, Flamenco, Modern and Belly Dance, as well as Hip Hop and Rueda de Casino.
The final evening included a spectacular ending with a very exciting "Gala" where the best of the best competed for a huge trophy as Best in Show.
I sincerely hope and recommend that this event will seek and be granted the status of IDO Recognized Event, and that in the future the FIDS will find a way to allow this event to apply for and be granted the rights to Southern European Championships.
Further information on next year's event will soon be available at the organizers web site www.clubsunshine.it
Happily submitted by your President,
Bill Fowler