Jul 5, 2011IDO goes Asia
IDO Approved Event in Chengdu, China
-
First IDO event in Asia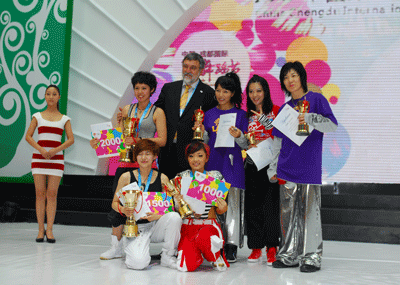 The finals solo female at the price giving ceremony
Liu Yun has won the first IDO title in Asia, at the CHINA CHENGDU INTERNATIONAL DANCESPORT FESTIVAL in Chengdu, China on July 1, 2011 - HipHop - solo female - adults.
The competition ran for HipHop solo female, solo male, duos and small groups. the dancers from Japan, Korea and China competed on a high level at IDO's first event in Asia.
The judges from the following 4 countries:
Hisako Umeda (VIP judge from Japan)
Lho panku (IDO judge from Korea)
Prof. Xu Wenbiao (national CDSF judge, China)
Liu Lian (national CDSF judge, China)
Michael Wendt (IDO supervisor and voting Chairman, Germany)
About 1,000 enthusiastic spectatorslowed the event. It was a grea atmosphere!
The event was excellently organized by Mr. Jimmy Su Jie, General Secretary, China DanceSport Federation (CDSF) and his experienced, very friendly and truly professional teams outside and inside the fantastic decorated sport hall!
IDO's special "Thank You" goes especially to you, dear Mr. Zhang Ji, Deputy General Director of China Leisure Sport Administration Center & Vice President of the CDSF and to your whole federation for inviting IDO to come to China and enable such a successful start of IDO events in your great country. Surely many more will follow. Let us work together!

Xie Xie CDSF!
Michael Wendt
IDO vice president & IDO ambassador for Asia / Asia - Pacific
Photos: Yang Lian, Chengdu, China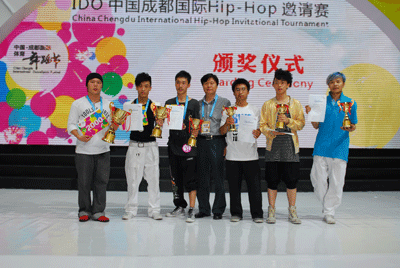 The finals solo male at the price giving ceremony with Mr. Zhang Ji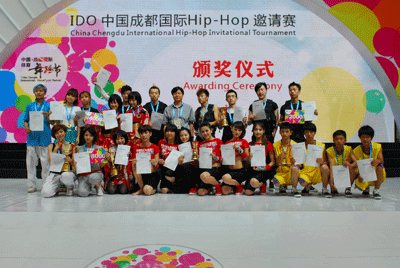 The finals small groups at the price giving ceremony with Mr. Zhang Ji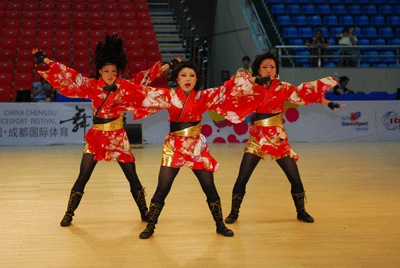 The Japanese small group