Jun 26, 2011Thank you
BILL FOWLER
-
for your great contribution to dance and IDO!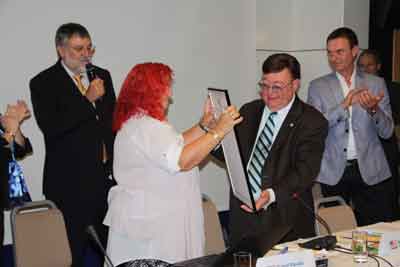 Kirsten Dan Jensen handing over the IDO presidium's gift to Bill Fowler -Bill's portrait, painted by Nancy Tilitz, wellknown Hamburg artist born in the USA
THANK YOU BILL FOWLER!
The new IDO president and Bill's successor - Jörn Storbraten - outlined in a warm hearted and very personal speech Bill's many contributions to IDO, like for instance the implementation of many IDO rules, bringing in performings arts in its variety and exciting levels, developing the art of dance into IDO - especially by sending so many skilled and talented dancers from the USA, the "mother country" of performing arts, making IDO really intercontinational, knowing and enforcing rules as "Mr. IDO Rulesbook", implementing the IDO judge's system and the rising the judge's skills in the "early days" and today, beeing THE Chairman of Judges and teaching so many excellent IDO officials to take over in this capacity later.
In short words: "Bill Fowler has formed the IDO to such an international and intercontinental world dance federation as IDO is today.
Thank you especially Robert Planutis to allow and assist Bill in serving IDO for so many years to accompany us to this high level of today. Hopefully now Bill will be more often with you in your beautiful homes in Medford, Boston or in Florida!
What we all doubt....... !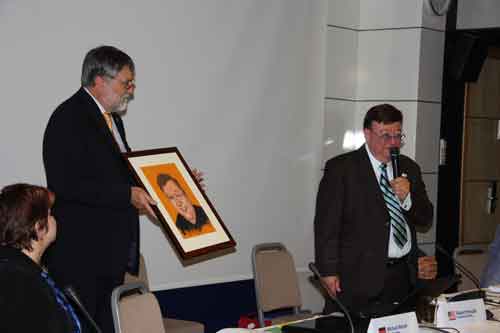 Michael Wendt showing Bill his portrait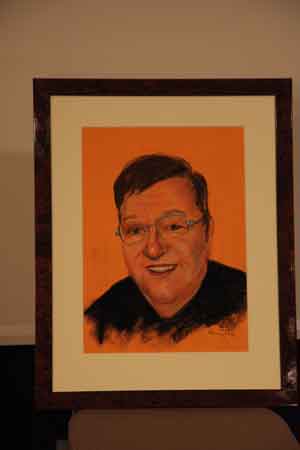 Bill Fowler