May 14, 2010Serbia hosted the first
European Jazz dance Championship & World Cup Modern dance 2010
-
in most beautiful city of Novi Sad organized by Gordana Orescanin and SAPO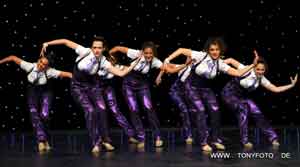 Viva Dance from Novi Sad - Small groups
12 IDO Jazz- and Modern nations sent their dancers to compete in the more than appropriate Serbian National Therater in Novi Sad at the Danube river: Bosnia & Herzegowina, Bulgaria, Croatia, Czech Republik, France, Hungary, Italy, Norway, Poland, Russia, Slovenia and Serbia.
They have been judged by Christopher Jeannmougin FRA, Jiri Buron CZS, Dmitry Chernavsky RUS, Zuzana Barta SLO, Julija Popova BUG, Andrzej Lukomski POL, Miodrag Kastratovic SRB.
Supervisor was Peter Szanto (HUN), Chairperson of judges Mimi Marcac Mirceta (SLO), official IDO Scrutineer Gordana Orescanin helped by Ljubisa Tomic with the famos Electronic Scrutineer System (ESS) which made exelent organization possible with the results in a second because all judges were working on Computers (ESS pockets).
MockSupervisor was Fiona Johnson Kocijancic (SLO).
It was an IDO event on a high skilled dance level. Jazz- and Modern in IDO will develop as fast as the other successfull IDO disciplines.
Here is a part of the official Chairperson- and Supervisor's report:
The competition took place on the main stage of the Serbian National Theatre. The stage and the ambient were more than appropriate for this type of dance. It made the level of competition higher and more cultural than a competition in a sport hall.
The organizing staff and the employees from the theatre showed great hospitality as did people in restaurants, shops…
Special appraisal goes to the moderator Predrag who was able to make a relaxed atmosphere during the competition.
The design of the trophies, medals and diplomas was fresh.
And here is the table of of medals - congratulation to all dancers and nations!
GOLD SILVER BRONCE
POLAND 12 10 11
SERBIA 8 9 9
SLOVENIA 4 4 2
ITALY 3 1
CZS 2 5 4
HUNGARY 2 1 2
BULGARIA 1
NORWAY
CROATIA
BOSNIA
All photos Tony Maher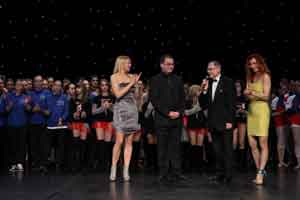 IDO Supervisor Peter Szanto congratulates the Organizer Gordana Orescannin on the stage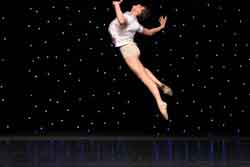 Antonio Sisca from Italy won both solo adult's competitions - bravo!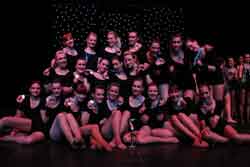 European-Champions-Jazz-Dance-formation-Adults: Urska LJ - Love symphony