Sep 28, 2009Kalisz Poland's oldest city - but young - at heart hosted the
IDO World HipHop-, Electric Boogie- and Break Dance Championships 2009
-
It truly was a great success!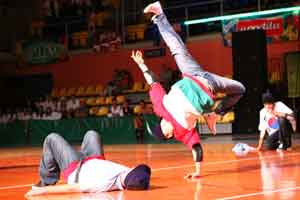 That's Break Dance
From September 23 - 27, 2009 the Polish city of Kalisz hosted the annual IDO World HipHop-, Electric Boogie- and Break Dance World Championships 2009. It truly was a great event in the brandnew, beautiful and spacious WINIARY HALL: 3.100 dancers from 34 countries participated and competed for the 28 prestigious titles of these only officially recognized World Streetdance Championships.
"It was a great show and wonderful event in Kalisz! " Janus Pecherz, the dance sport interested Mayor of Kalisz enjoyed the exciting final evening on Saturday with the Production- and Break dance finals and the Quarterfinals HipHop-Formation (24 HipHop Formations - the best of the best!).
"Thank you very much for making Kalisz the HipHop-dance-center of the world" Miroslaw Przybyla, the director of OSIR, the city's sport department in Kalisz , was overwhelmed by the attendence of dancers from 4 continents.
"Truly one of the greatest IDO shows" Jörn Storbraten, (IDO Senior Vice president) sees a great development in IDO Streetdance department.
All results www.ido-dance.com ==> compettions - results - results 2009
Outlook for Bochum, Germany 2010:
"Now we are very proud to welcome the best dancers from all over the world in Bochum in 2010, a city where sports and dancing has a long tradition. My team is prepared fort this big event." Andreas Kuchajda, general manager of the RuhrCongress, who will be the official organizer has visited Kalisz and was very impressed abou this unique venue and the whole succesful Polish event.
IDO-officials working for the event:
IDO Poland: Zbigniew Zasada (Wroclaw Poland)
IDO Chairpersons; Kirsten Dan Jensen (Denmark) - Jörn Strobraten (Norway)
IDO Supervisors: Marian Sulc (Czech Republik) - Michael Wendt (Germany)
IDO Judges:
Zivkovic Jadran Slovenia, Lampic Miha Slovenia, Kuzniki Andrew Poland, Szczepanik Zasada Boguslawa Poland, Szymanska Mariola Poland, Suhodoliscaia Olga Moldova, Csibri Balazs Hungary, Butko Andrey Russia, Suchkova Anastasia Russia, Tuzhilkin Vladislav Russia, Ivanov Vasily Russia, de Vos Romy Netherlands, Tauber Mariska Netherlands, Meyer Berko Germany, Fehst Michael Germany, Wondrak Geo Germany, Dan Jensen Jannie Denmark, Lindgren Lone Denmark, Aaggaad Ann-Berrit Denmark, Sulc Marian Czech Republic, Hubeny Jiri Czech Republic, Hejnikova Dita Czech Republic, Hitzingerova Milada Slovak Republik, Svehlova Hana Slovak Republik, Grindberg Igors Latvia, Upeniece Sintija Latvia, Slavkovic Nebojsa Serbia, Bojko Pavlo Ukraine.
Moderators hosting the event from 09:00 am to 10:00 pm each of the five days: Thomas Püttmann from Germany and Olej from Poland.
See you in Bochum, Germany from September 29 to October 3, 2010 for the next IDO World HipHop-, Electric Boogie and Break Dance Championships 2010!
And Thank you Kalisz!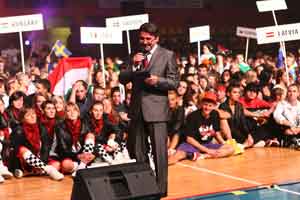 Janus Pecherz, Mayor of the City Of Kalisz welcomes all the dancers