May 26, 2009IDO competitions
World Dance Olympiad 2009
-
Moscow - 30 April to 10 May, 2009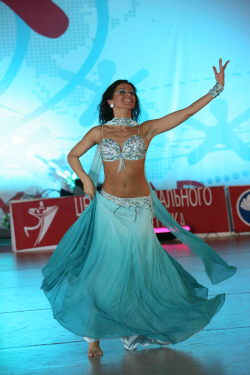 Simona Minisini - 3rd place in World Championships Belly Dance Solo Adult
The World Dance Olympiad in Moscow consists of different dance style competitions: Techno, Jazz, Modern, Ballet, Flamenco, Belly Dance and Couple Dances. All events of the World Dance Olympiad together had about 16.535 (more than sixteen thousand!!!) dancers competing. Only parts of the World Dance Olympiad are official IDO events; there are also open Russian Cups and IDSF ballroom part. The whole event lasted ten days from 30 April to 10 May. In these 11 NONSTOP DAYS COMPETITIONS three dance halls of a special and well known venue in Moscow: SOKOLNIKI (big park and complex of exhibition halls) were used parallel.

Dancers and officials came from various other countries besides Russia: Armenia, Belarus, Bulgaria, Egypt, Estonia, France, Germany, Gibraltar, Italy, Kazachstan, Moldova, Poland, Serbia, Slovak Republic, Slovenia, Ukraine, USA and many more. One of the judges was the VIP judge in Belly Dance – a well known specialist : Trainer and choreographer: Hassan Afifi from Egypt.

The IDO officials report big improvement in Ballet, Jazz and Modern compared to last year and about wonderful competitions in all age categories of Belly dance.

The World Dance Olympiad was again successfully organized by the President of the Russian IDO, Andrej Kokoulin.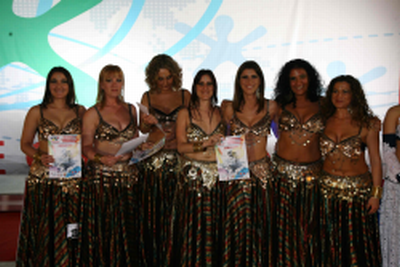 Adult Belly Dance Group - 6th place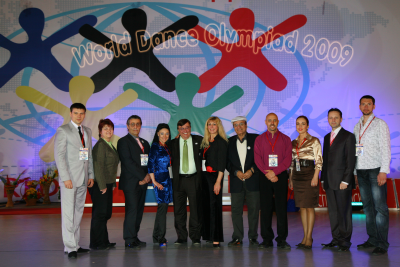 Judges: Pavel Boyko (UKR), Hana Svehlova (SK), Primo Poletti (IT), Alena Korvel (BEL), Bill Fowler, IDO President (USA), Bellabina (GER), Hassan Afifii (EGY), Michael Prescott (GIB), Irina Prokopenko (UKR), Andrey Kokoulin, Organizer (RUS), Sinisha Veseli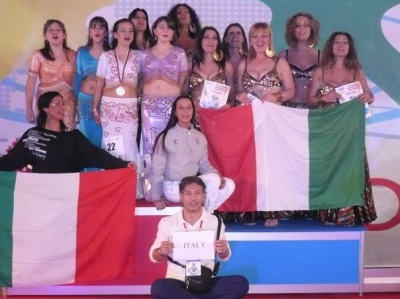 Italian Team "Sunshine"